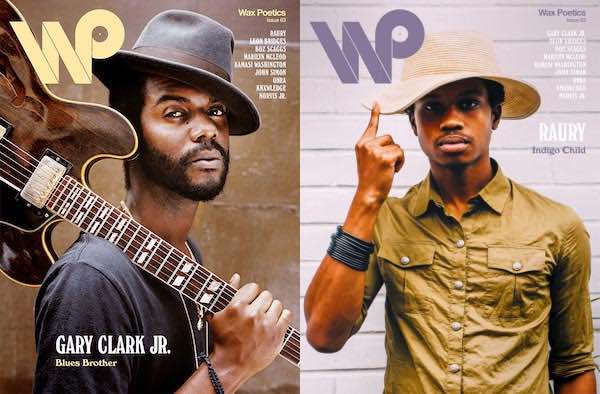 Waxpoetics Issue 63 - Gary Clark Jr. / Raury

£4.99 Add to basket

Mentored on the axe by Stevie Ray Vaughan's brother Jimmy and mentored on the music business by friend Cody Chesnutt, Austin guitarist Gary Clark Jr. was hailed as blues music's second coming after a couple of self-released records and his Grammy-winning, major-label debut, Blak and Blu. But not wanting to be put in a box, Clark took a cue from Chesnutt's The Headphone Masterpiece and set out to record and self-produce a wide-ranging yet personal album from his own perspective. The result, The Story of Sonny Boy Slim, sees Clark bridging the gap between genres while creating his own thing.

After a couple of his singles blew up, nineteen-year-old singer-songwriter Raury flipped that success into an ambitious desire to create profound and impactful art. As he headlines his own festivals, and his anxiously anticipated finally debut drops, Raury now leads a pack of young artists aiming to start a movement to take the music industry in a new, positive direction.

Also: Blue-eyed-soul man Boz Scaggs, Motown songwriter Marilyn McLeod, classic rock producer John Simon, saxophonist and Kendrick Lamar collaborator Kamasi Washington, soul singer throwback Leon Bridges, French beatmaker Onra, Stones Throw producer Knxwledge, and underground sound manipulator Norvis Jr.